Welcome to the Paralives Wiki!
The online encyclopedia for the upcoming life simulation game, Paralives.
(Founded 17th July 2019)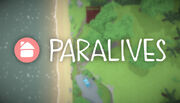 Paralives
is an upcoming single-player life simulation video game, due to be released for Windows and Mac through
Steam
.
Paralives
gives you the ability to create "parafolk", build and manage their homes, and explore a open world full of things to do and people to meet.
The game currently does not have an estimated release date, nor an estimate on the price. The game will aim for a "Teen" rating.